Rentals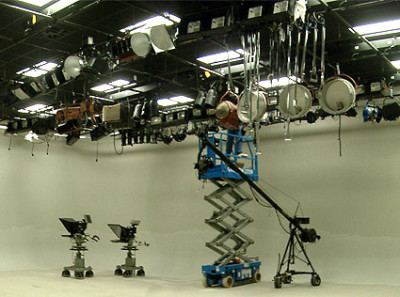 Rentals are available for studio use or on location. We rent out packages to suit your needs, or ask for a la carte.
Lighting and Grip – Click here for our lighting and grip list.
Cameras – Click here to learn more.
Sony F55 with 25mm, 50mm, and 85mm Zeiss Compact Prime CP.2 lenses and Odessey 7Q recording monitor
Panasonic HPX300 (3) (P2)
Panasonic HPX370 (1) (P2)
Canon 5D Mk II (Compact Flash)
Panasonic DVC-80P (2) (MiniDV)
Sony Sony Z1U (2) (HDV)
Sony D30 (3) (SD)
Panasonic AG DVC80 (2)
TriCaster Fly Pack – 860 or 455 – Click here to learn more.
The TriCaster capabilities include:
Multi-camera iso recording of up to eight cameras
Live web streaming
Pre-recorded video playback
Titles, graphics, animations, screen shots, lower thirds, and more.
Virtual sets
Green screen keying
Separate Program and aux output recording
Portable Green Screen Backdrop 
16' tall x 10' wide heavy fabric backdrop
Comes with stands, crossbar, spring clips, and mounting clamps
Available with and without tungsten lighting and softboxes
Equipment – Jimmy Jib, teleprompter
Crew – Please contact us for availability.